Do you need a quote for In-Home Palliative Care Nursing?
Complete our form or call 02 9343 0880 for your free no obligation in-home palliative care nursing quote today.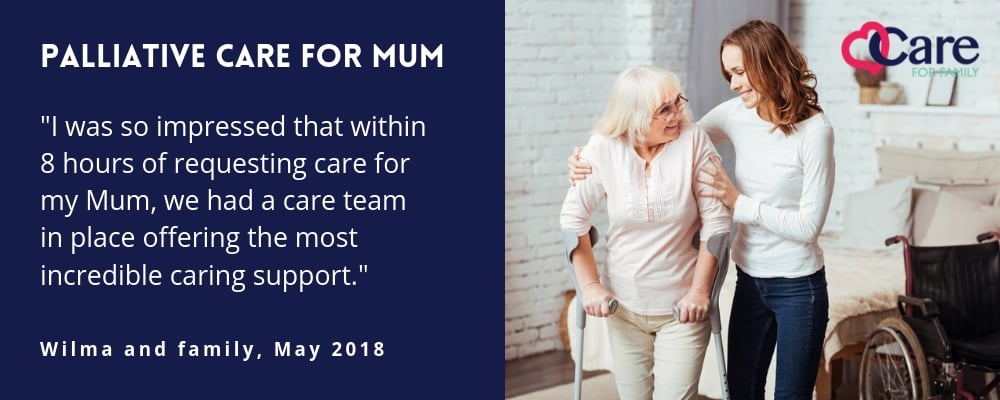 Talk to a palliative care team you can trust
National surveys consistently show that around 70% of Australians would like to spend their final days at home.
Surrounded by loved ones and supported by professional, gentle care, is one of the most desired end-of-life experiences expressed by our clients.
This is what we believe in too.
We care passionately that anyone that needs high quality, safe and protective palliative care, should have access to it.
We also believe that even when independence has been lost due to adverse health issues, people can still have the freedom to pursue their passions, interests, hobbies and relationships.
Because of this, we offer personalised, professional, and compassionate in-home palliative care that provides peace of mind for family carers, and companionship and supported independence for the elderly person they care for.

How we Can help
By managing palliative care teams and providing support for both the client and care teams to ensure the highest possible care is given and received at all times.
By providing personalised, professional, culturally appropriate and compassionate in-home care.
By providing consistent palliative care teams that you can form trusting and supportive relationships with.
By only using trained, qualified, reference-checked and police checked care professionals.
By guaranteeing the replacement of care professionals if our clients don't feel they are a good fit.

Our Process
If you need palliative care support quickly, we can help. Here is an outline of our simple and rapid response process:
You complete the form on this page.

We will call you with a

quote

within 24 hours (Mon-Fri) and to discuss any other needs or questions you might have.

If you are happy to proceed, we will send a

quote

in writing/email.
Once approved by you, we will send your customised care professional schedule.
We will start (within 24 hours if needed) to provide personalised and compassionate in-home palliative care of the highest possible standard for your loved ones.