Wondering how to take care of ageing parents? You're not alone! With the overwhelming majority of older Australians choosing to remain at home in their later years, many loved ones find themselves caring for elderly parents in order to help them do just that. If you're about to become one of many adult children caring for a parent, it can seem like a daunting task at first.
Thankfully there is plenty of caregiver support available. The resources available to you can help share the caregiving responsibility between yourself, your loved one's support group, and experienced age care providers like our team at Care For Family.
With the right support and some useful tips, caring for a parent or ageing loved one can be incredibly rewarding – for both carer and the person receiving care! Here, we share our tips on how to take care of ageing parents, to help you best prepare for the role of caregiver.
1. Understand and assess your ageing parent's needs
If your parent has decided that they'd like to remain at home, or with you in your home, rather than transition to an assisted living facility such as a nursing home, your first important task is to understand their needs fully. Consider the following factors when determining the kind of support, and level of support, your loved one needs:
What family support is currently available?
Will your parent live in their own home or with you?
Is their own home safe for them to remain in/is your home suitable?
What are your parent's medical needs?
How is your loved one's cognitive health?
What is their level of mobility?
Is personal hygiene something they will require assistance with?
Does your loved one need help with preparing meals?
What kinds of community activities and social interaction does your parent wish to continue enjoying?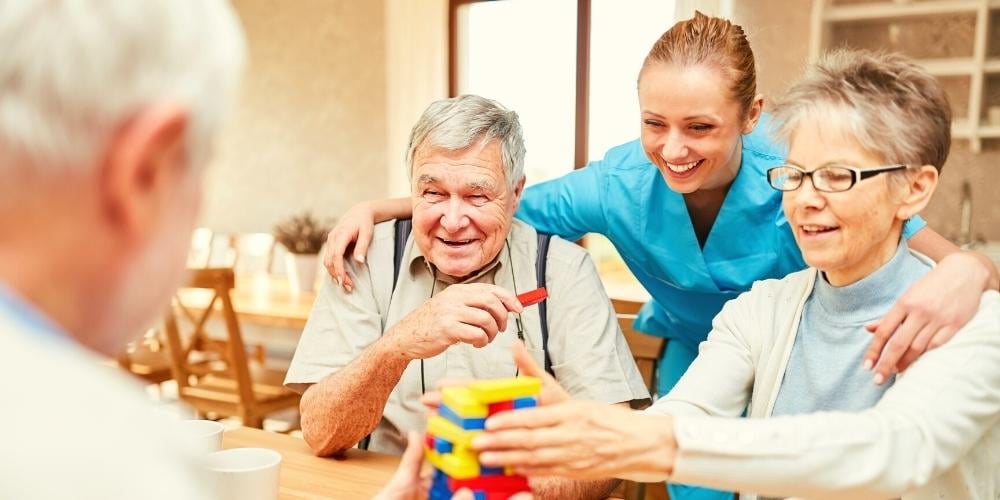 You should determine how much support (if any) your parent needs in these areas, in order to stay safe and healthy at home. This will help you to determine the kinds of support you can provide, and what you and your loved one may need a little extra help with.
You might also like to speak with your parent's GP for some extra information on their medical needs, as well as for information on how the doctor may be able to support your parent in maintaining their health, prescribing medications, and keeping an eye on any health issues that may become a concern.
Another thing to consider is a formal aged care assessment from My Aged Care. You can read more about that here.
2. Determine the level of support you can provide
Of course, we all hope to give our ageing parents as much support as possible in their later years, especially if they've chosen to remain at home rather than transition to an aged care facility. However, it is incredibly important to understand your own capacity for caregiving, as well as that of other loved ones who will share the caregiving responsibility. Finding caregiving overwhelming is nothing to be ashamed of – after all, very few Australians are experts in aged care and caregiving!
No matter what stage in your life you are at currently, you have many other important responsibilities to consider. Whether raising young children, working in a demanding job, or struggling with your own health, there are many factors that might limit your ability to provide adequate care for your loved one. Being realistic about this from the outset is the best thing you can do for your ageing parent, in order to best ensure their care, quality of life, and ongoing happiness. Ask yourself these questions:
Does your family work?
Do health circumstances allow you to care for your parent?
Do you live close enough to manage their care, or will they live with you?
How much time can you dedicate to being with your parent in their own home?
Is your relationship conducive to giving the type of care they require?
Do you have the skills required (or are you willing to learn skills) to care for your parent?
Would having your parent live with you disrupt your own household and its other members?

Even with the best of intentions, many family caregivers find themselves overwhelmed, emotionally and physically burned out, and unable to continue to adequately provide care for their loved one. If you're wondering how to take care of ageing parents, it is absolutely essential to take your own needs, into account.
3. Explore your aged care options
When determining how to take care of ageing parents, many Australians are unaware of the support options available to them. Other options for support include:
Seeking assistance from other loved ones
Support groups for carers and those receiving care
Community groups facilitating activities and social events for older Australians
Respite care services, for when you need to take a break

For your family, help from other loved ones, as well as support groups and community groups might be all you need in caring for your ageing parent. However, if you find that these things are not realistically enough to support your loved one in living safely, happily, and healthily, there is another important factor to consider.
Private or government-funded aged care services can provide your loved one with expert care from trained and experienced aged care providers, no matter how complex their needs are. These services can be incredibly beneficial not only for your ageing parent but also for you and the rest of your family. Experienced aged care providers can help to reduce the stress and exhaustion often experienced by family caregivers who are trying their hardest to balance their home life, work-life, social lives, and caring for a loved one. From providing help with cooking and cleaning a couple of times per week, to offering assistance with personal hygiene, medications, transport, or even companionship – aged care providers like Care For Family understand your parent's needs and offer compassionate, individualised care solutions to help your parent to remain in their own home (or yours), safely and happily, for as long as possible.
Your loved one may also qualify for government-funded aged care services, under the Home Care Packages program from the Australian Government. Under this scheme, you and your loved one can select an aged care provider of your choice, budget according to your circumstances (including government funding options), and determine the types of services that these funds will contribute towards.
For more information on how we can assist you with this program, visit our Home Care Packages page.
4. Select aged care services for your loved one from Care For Family
Here at Care For Family, we have decades of experience in providing compassionate, expert, and individualised aged care services. Our trained and dedicated carers offer a wide range of services for your loved one, including in-home respite care, live-in aged care, food preparation, cleaning, gardening, transport, personal care, fitness, social support, companionship, and more.
For more information on the services we can provide to your loved one, visit our Aged Care page, or 24-Hour Aged Care page.
Once you've determined the types of services which would be suited to your loved one, booking our in-home aged care services couldn't be simpler. We are ready to provide assistance today – in fact, you can book your service to start the same day as your call. Still unsure and need a little help on deciding how to take care of ageing parents? We provide free phone or in-home consultations to help you decide on exactly what support you and your loved one need.
Get in touch with us on 02 9343 0880 or click here to request a callback.