Many Australian seniors and others with physical limitations need help to continue to live independently in their own homes. Whether you need personal assistance, medication management, or domestic help to handle chores such as laundry and house cleaning, here's how to choose a home care package provider that can give you the right solution.


What is a Home Care Package (HCP) Provider?
Home care covers a range of professional support services provided to care recipients that enable them to live safely in their homes for as long as they wish. These in-home care services can help seniors who are ageing and need assistance to live independently, deal with chronic health conditions, recover from medical issues, or have special needs or a disability.
Approved HCP providers offer services such as basic daily care, home nursing, companionship, transportation, mobility home modifications, extended healthcare such as physiotherapists and personal trainers, shopping assistance and meal preparation. It's essential to choose a provider who not only offers the services you need but whom you trust managing your package and feel comfortable giving them access to your home.
How do HCPs Work?
HCP providers offer a choice of services, including in-home care, allied health services, minimal construction, and respite care. A care plan will always be created to support the aged care required. The way it works is that once you have been approved for a Home Care Package, you'll receive a letter from the Government stating that your funds are available to be used, and you can select a provider.
HCPs are assigned to people, not providers, which means you can choose the provider you want to use and take your HCP with you if you change providers.
The national priority system identifies those applicants who have a more urgent need for care based on their assessment and the date of their approval. The Government funds a set amount, which might be enough to cover all of your costs, or you could be required to contribute a portion yourself. The funds cover several fees relating to your care, including setup fees, administration fees, care management fees and exit fees.
When you know how to choose a home care package provider, you'll be in a position to discuss the best ways to structure your fees according to the care level you need and the options you choose.
Researching HCPs near you
It's not difficult to find the HCP providers operating in your area. The challenge comes in choosing the one that's right for you. Most companies these days have websites that give detailed information on the services they provide. You can search listings of HCPs on My Aged Care based on your location, the services you want, the level of care you qualify for, languages spoken by care teams, and more.
Evaluating Your Options
Getting a personal recommendation for a particular HCP provider is always helpful, so ask people you know in the community and healthcare professionals like your GP if they can recommend a provider. When you find a couple of companies you're interested in, read any reviews from other care recipients you'll find on their website and social media profiles. Visit review sites like Aged Care Reviews to see if you can find independent, verified reviews that will help you get a picture of the provider.

Choosing a Provider
When you're selecting an HCP provider, here are some essential things to consider. We have provided some important questions for you to seek answers to when researching HCP providers. Below each question, we have given some information that relates to how Care For Family would answer these questions.
What care is provided for your package? How many hours of care will you get for the amount of your package?
In the infographic below you can see how much funding you can get for each HCP level and an indication of how many hours of care you can receive from Care For Family. You can typically get more hours of care for the HCP with Care For Family than alternative providers.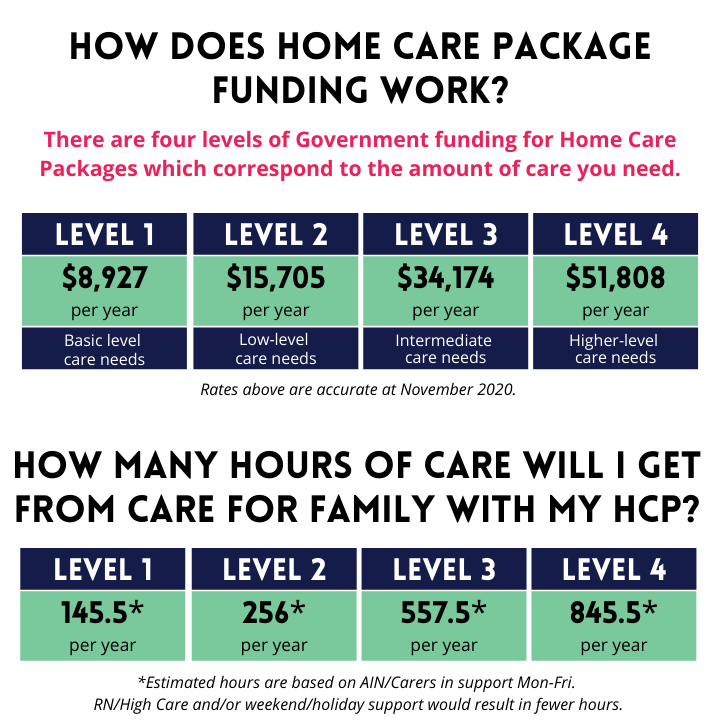 Is the team compassionate and flexible? What indication do you have of these factors?
The Care For Family team's ethos is to be caring and compassionate at all times. We have a brilliant and highly experienced case management team that can cater to our clients' individual needs.
What is the provider's staff turnover rate? You'll want to sign up with a company that keeps its care workers long-term because it will give you a better chance to build relationships with the team.
From the outset, our belief in offering consistent care to our clients has shaped our culture. As a result, Care For Family has a very low staff turnover because our care teams can call for support 24-hours a day, 7-days a week. They are always treated respectfully, and their individual talents and expertise are nurtured. They are also paid fairly, above the industry average. This does not make the care we offer expensive, and you won't find such high-quality care at a lower price.

How long has the company been established? How much experience do the executive team have in providing aged care? Businesses that have been around for a long time are more likely to have good experience and a strong reputation.
Care For Family has been supporting our local communities in Sydney and beyond with the highest quality private in-home care since 2014 under the expert leadership of Ruth Samer, in-home aged care and childcare services specialist for over 30 years.
Ruth is well known and respected throughout Sydney by healthcare professionals and training establishments for her care management skills and leadership.

How much of your Home Care Package funding will go to your support, compared with the amount allocated to administrative costs?
We charge a total of 20% of our clients' HCPs as management fees, which is low by industry standards.
Does the company charge additional fees for staff to travel to your home?
Care For Family does not charge any fees for staff to travel to our clients' homes.
Can you access extra help and support or any assistive technology you might find you need? For example, to combat vision loss. What are the additional costs for doing so?
An assessment is always carried out in the initial stages of meeting our HCP Clients to find out what extra support could be required. Any allied health or products you need will be costed and discussed with you and your loved ones. It is then up to you, our client, to decide if these items or allied services will come out of your HCP budget, or pay them from your own funds and maintain care hours instead.
This information will enable you to compare how far your package will go with each of the providers you're considering. You may find some are less expensive than others, but your choice should depend on who offers the best option for your needs.


Getting an Interim Package
Home Care Packages are in high demand, and you may need to wait a while before you get approved, or a package can be assigned to you. It's best to start making enquiries at least a year before you expect to need the support, so you don't have to arrange anything in a hurry. If you find your needs are more urgent than you expected, you can choose a home care interim package that gives you some services at a lower level while you wait for a package at your approved level. You'll receive a notification when a package at the right level is available, and you can automatically upgrade your package when that happens. If you expect to change from one level package to a higher one, you'll need to know how to choose a home care package provider who offers the additional services you're going to need.