One of the greatest things about retirement and senior living is having so much more time for social activities. Many of our clients at Care For Family enjoy rich social lives thanks to a variety of activities which can be enjoyed in groups with like-minded people. Staying active socially is not only great for our minds and our mental health, it can also be a great way to keep physically active and fit and can give a sense of purpose. Thanks to the internet, and the vast range of seniors' clubs and organisations around Australia, finding a community activity has never been easier. Here, we list just a few of the many community activities for seniors of all interest types, which you or your senior loved one might like to try out.
Seniors fitness classes
Keeping physically fit is just important for our bodies in later life as it is when we're young. Despite the fact that we might be less agile than we used to be, getting older is no reason to say goodbye to a daily or weekly workout. Seniors fitness classes and group exercises are a fantastic way to keep fit and active, as well as get involved with the local community. Surrounded by other people of a similar age, and of all kinds of ability levels, can be good fun, as well as be great for keeping our bodies and minds healthy. Your local gym, health club, or senior centres will have a range of group fitness classes suited to older adults. These might include swimming and aerobics, tai chi, yoga, dance classes, and weights and strength classes.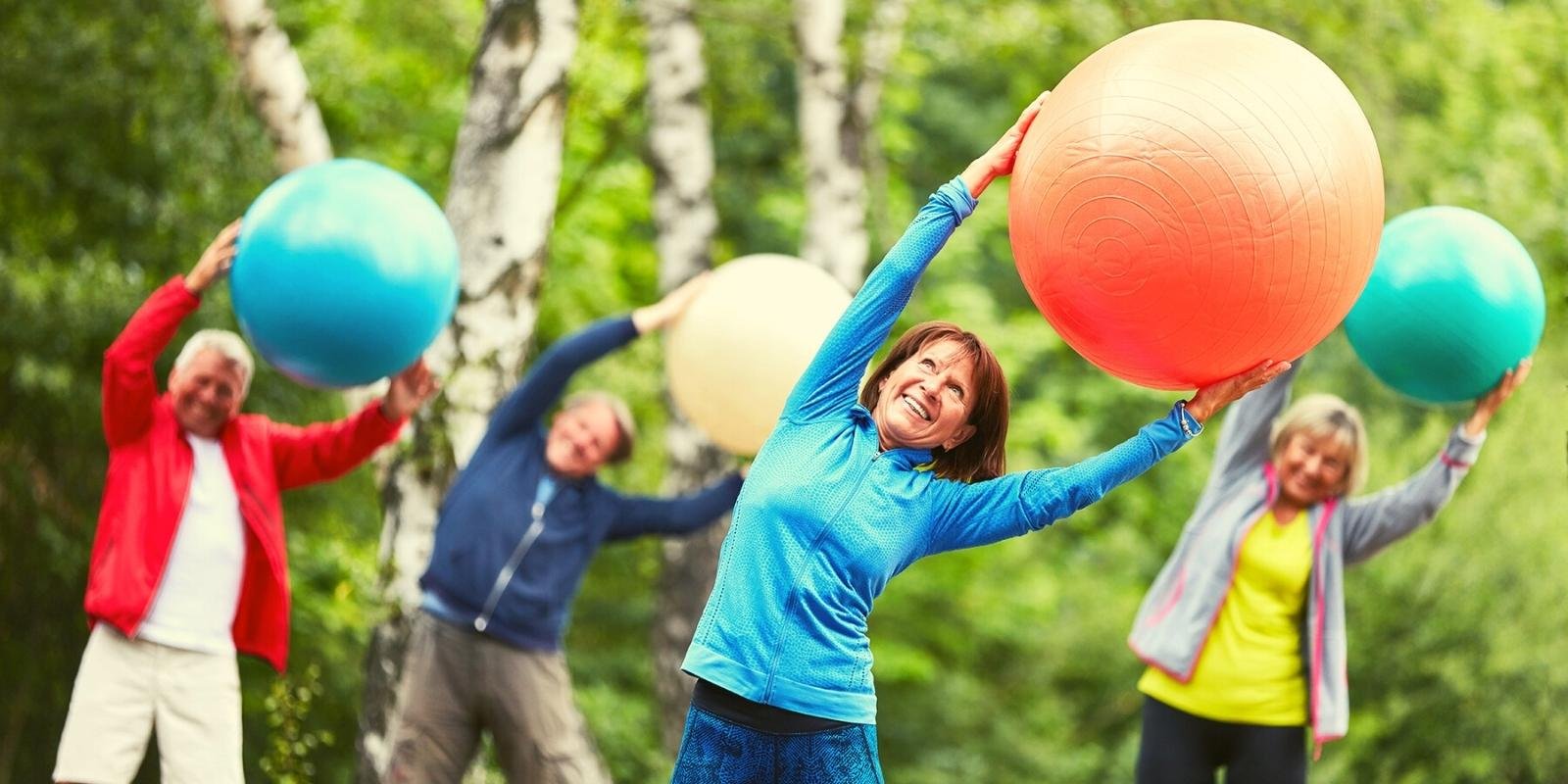 Alternatively, you or your senior loved one could contact a local personal trainer to come and conduct a group fitness class for a group of friends at home, or at the local park. Hiring a personal trainer for a group can be very cost-effective, and also allows for the tailoring of a fitness program specifically for the ability and interests of those involved. Get in touch with your local gym to find a recommended personal trainer, or to find an existing group class.
Walking groups
Of course, community fitness activities for seniors don't need to be formally organised or conducted at a gym. Walking groups are a great way to keep active and catch up with friends, and can be done almost anywhere. Whether it's a walk on the beach, through a local park, or to a local café for coffee and brunch afterwards, walking groups are a really fun social activity which isn't too strenuous, and so, suits a range of ability levels. Even seniors who require a wheelchair can take part in a walking group, as many walking paths are disability-friendly. Your local council website or community directory should have a list of walking paths in the area, so that you or your loved one can find a beautiful route for your new regular walking group!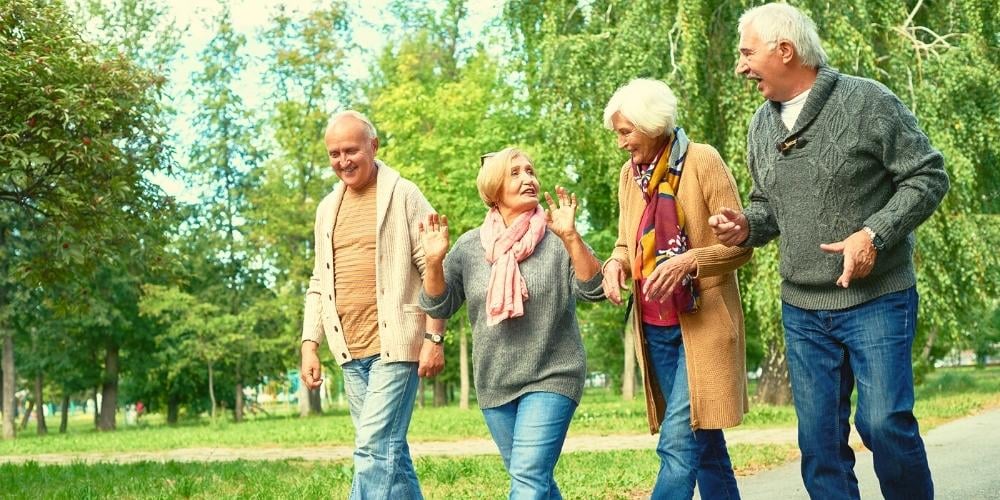 If you can't find information online about walking paths and disability access, be sure to contact them over the phone or via email for some assistance.
Photography, drawing and painting
If you're looking for a community activity which doesn't involve getting fit, there are a huge range of options. For those with a bit of an artistic streak, photography, drawing and painting groups can be loads of fun and a great social activity. If you or your loved one are looking to learn a new skill, local painting, drawing and photography classes are available in most areas.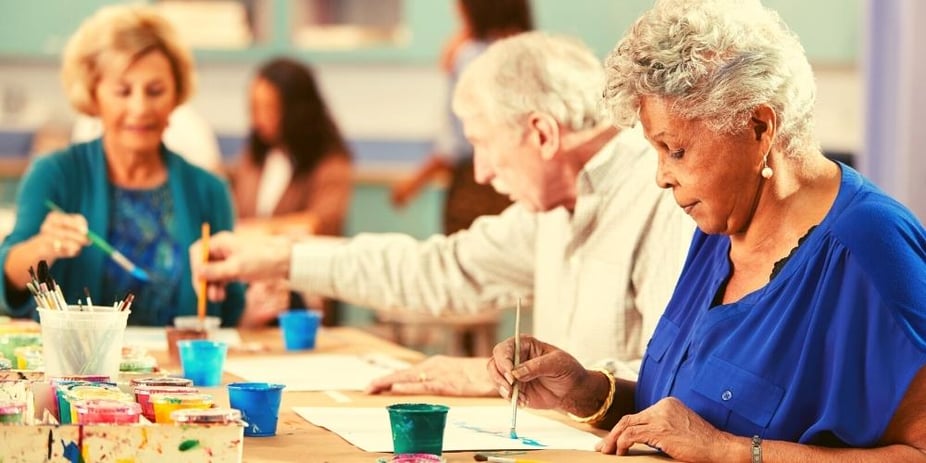 Musical activities
Music has long been understood to have benefits for health, and is something that can be enjoyed no matter the level of ability of participants. In fact, studies have shown that listening to music can have a strong effect on lifting mood, improving mental health, and even offers physiological benefits such as improving blood flow, lowering stress and easing pain. What's more, music is a powerful memory tool, and can bring back treasured moments from our lives.
Community musical activities for the elderly are not only great fun, but can also offer comfort and relief to those living with Alzheimer's or dementia. Organising a community music activity can be as simple a popping on a sing-along DVD or CD, playing some karaoke tunes on YouTube (which play with lyrics on-screen), or just singing along to a favourite album with friends and family.
Community games
Many older people tend to leave the house less as they get older, and isolation is a very real risk for many seniors who struggle with mobility issues, for example. However, getting out and about and partaking in social activities is incredibly important for mental and emotional health. Luckily, there are many community activities for seniors which are hosted by local interest groups and clubs, such as RSLs and community centres. These include things like bingo nights and other games nights. So, if you've got a bit of a competitive side, these kinds of group activities can be good fun and a great way to stay connected to your local community. Consult your local RSL or community centre for details on community activities available.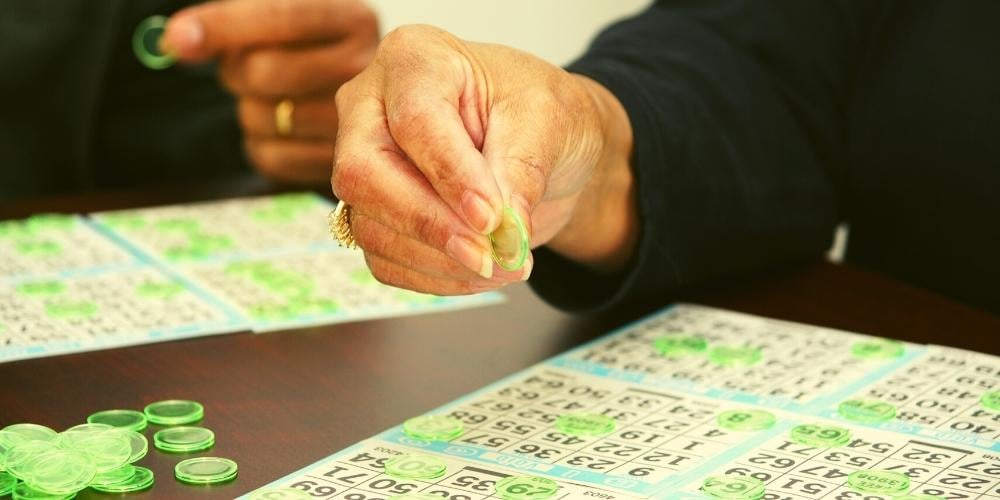 Book clubs
For avid readers out there, a community book club can be another excellent way to connect with likeminded people and also makes for a great solo hobby. Most book clubs will pick a book for all members to read, and then get together to discuss it once everyone is done reading. These meetings can be held in the comfort of members' own homes, at local coffee shops, or even at the local library. You can create your own book club with friends, or join an existing one. The local council library is a great place to find existing book clubs, and many will have clubs aimed at seniors. Take a look at your local library's website or social media profiles to find out about book clubs in your area.
Further education
Finally, another wonderful activity for seniors looking for a meaningful activity which combines new hobbies and personal interests with social and group activities is further education. Local learning centres like TAFEs will have further education programs for seniors, and there are a wide variety of study options available. From learning a new language, to discover a new skill like photography, TAFE and other tertiary education centres have something to suit everyone. Best of all, studies show that learning a new skill is good for the brain!
At Care For Family, we understand that staying socially active in later life is important for so many reasons, and it's especially important for clients like ours, who require a little extra assistance at home. This range of community activities for senior citizens has something for everyone, and showcases just some of the great ideas for staying social, getting out and about, discovering new interests and making friends. If your senior loved one could use some part-time help at home, to maintain their independence and continue to lead their socially active life, get in touch with us at Care For Family today and find out more about our care services.
RELATED Posts