You are never too old to get fit! Even though our amount of physical activity tends to decline as we get older, the Australian Department of Health recommends that older Australians accumulate at least 30 minutes of physical activity each day. At Care For Family, we are often asked by family and friends about the best form of physical activity for elderly people. After all, getting older doesn't mean it's time to do away with the hobbies, games and physical activities we enjoyed in our youth!
There are many great reasons to enjoy physical activity as we get older, including improving health, strengthening muscles, lowering the risk of heart disease, and of course, having a great time. We've put together a list of activities which can help your loved ones keep fit and active, whatever their level of fitness or ability.
Swimming and aqua aerobics
One of the most popular types of physical activity for older adults is aqua aerobics, or 'water aerobics'. Whether simply swimming alone or attending a group class, aqua aerobics and swimming can be great ways to keep fit without putting too much pressure on the body. In fact, aqua aerobics has many health benefits for those over 65 years of age (or under, for that matter).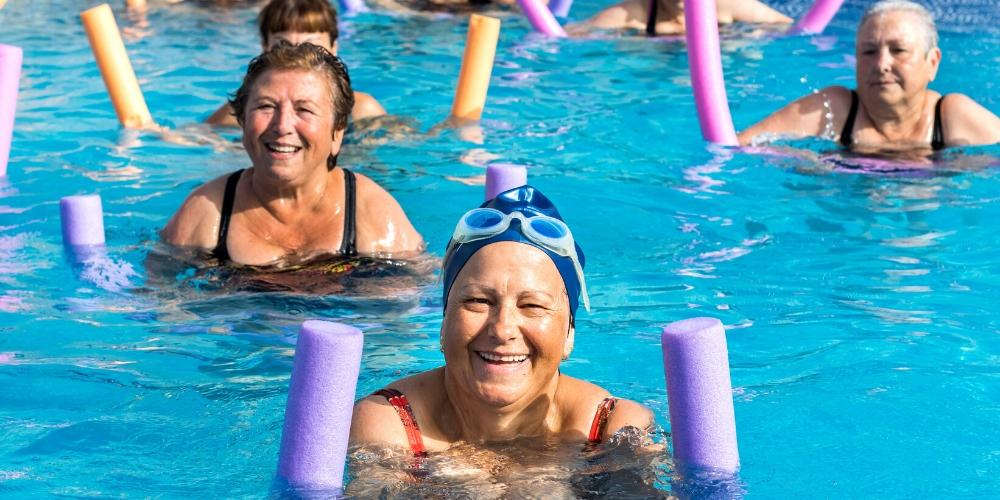 Aqua aerobics is wonderful for cardiovascular health in the elderly, as it gently increases the heart rate and breathing rate. It also helps to develop muscle strength and improve flexibility. Because water activities such as aqua aerobics and swimming put so little strain on the joints, it can also be a wonderful way for those with joint pain or arthritis to maintain their fitness. What's more, it's also a great stress reliever.
Walking or jogging
One of the easiest ways to keep active as we get older is to walk. Brisk walking or jogging are also excellent physical activities for those with higher levels of fitness.
Walking, in particular, is a great form of 'incidental exercise'. Incidental exercises include the types of exercises we perform during our regular daily activities. That might mean going for a walk to the shops or to meet friends, getting off the bus one stop earlier and walking the rest of the way, or taking the stairs instead of the lift. Both walking and jogging are wonderful aerobic activities which can improve health in many ways, including reducing blood pressure, improving muscle strength and bone strength and in turn, reducing risk of falling and causing injury. As with any type of physical activity, it can even reduce the risk of heart disease. Walking and jogging are also great social activities and can be done in pairs or groups.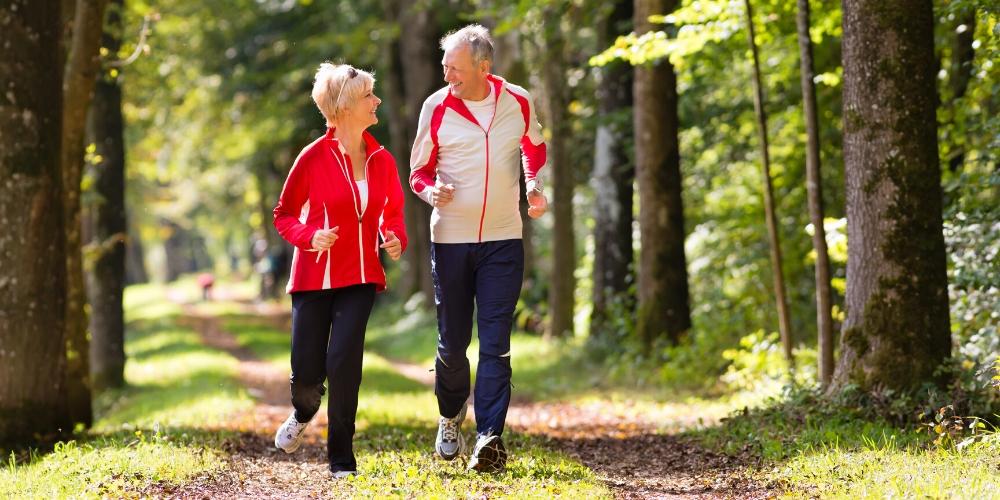 Your loved one might even like to join a local walking or jogging club aimed at seniors. Visit the Heart Foundation website to find a walking group near you.
Callisthenics
Callisthenics is a type of exercise that's been around for decades. It involves using the body's own weight for strength training and conveniently, requires little or no equipment. Better yet, callisthenics can even be done in the privacy and comfort of one's own home. This makes these low- to moderate- activities particularly good for older people who aren't able to leave their homes as much as they would like. A callisthenics routine can be tailored to suit one's individual needs and so, can be suitable for almost anybody.
Callisthenics routines involve stretching, balance, and resistance routines which can improve muscle tone and strength, improve bone strength and help with balance. Take a look at this simple callisthenics routine for seniors.
Tennis
Tennis is an age-old pastime and hobby for many Australians. It's also a great activity for seniors who still have moderate levels of fitness. Your loved one might not be quite as quick as they used to be, but there's no reason they can't still enjoy hitting a ball or two. Tennis is wonderful for muscle strength, heart health and balance, as well as hand-eye coordination. Furthermore, tennis is one of the great social activities for seniors.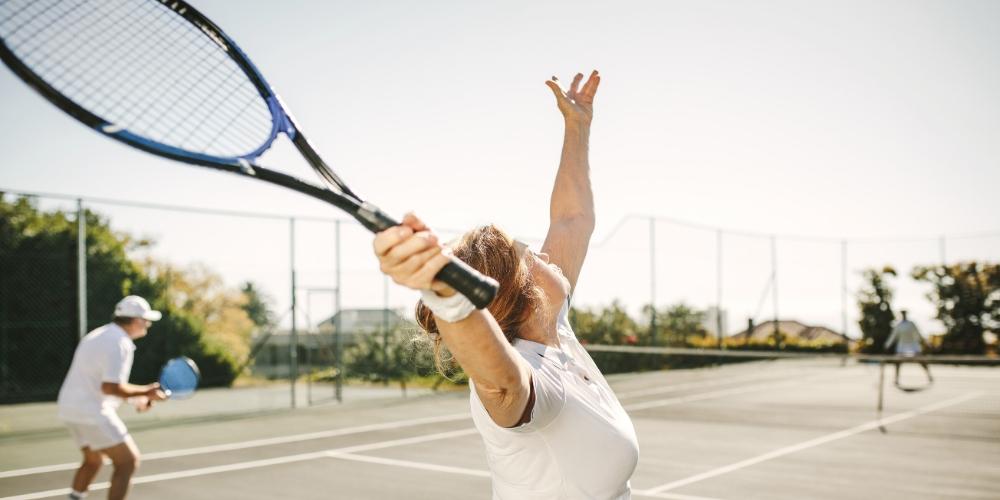 Your local tennis club may even offer tennis classes and group activities for seniors, which is a great excuse to get out and catch up with friends as well being a good way to keep fit.
Do you have a tennis star in your family?
Your loved one might even be interested in attending – or competing in – the annual ITF World Team Championships. Nominations for seniors wishing to represent Australia are open until late January each year. For those who want to watch the action unfold, the events are scheduled between April and May every year.
Yoga
Yoga has grown enormously in popularity over the last few years and it's no wonder. Yoga is a gentle yet powerfully effective exercise which can be undertaken by almost anybody. Yoga is an ancient form of physical and spiritual exercise which was originally introduced by the Hindu philosophical traditions.
These days, however, yoga is loved by millions around the world as a way to relax and unwind, while also building strength in the body. For many, yoga is also a great meditative exercise. It involves learning certain postures and poses which help to increase flexibility, tone and strengthen muscles (in particular, the core) and de-stress the mind.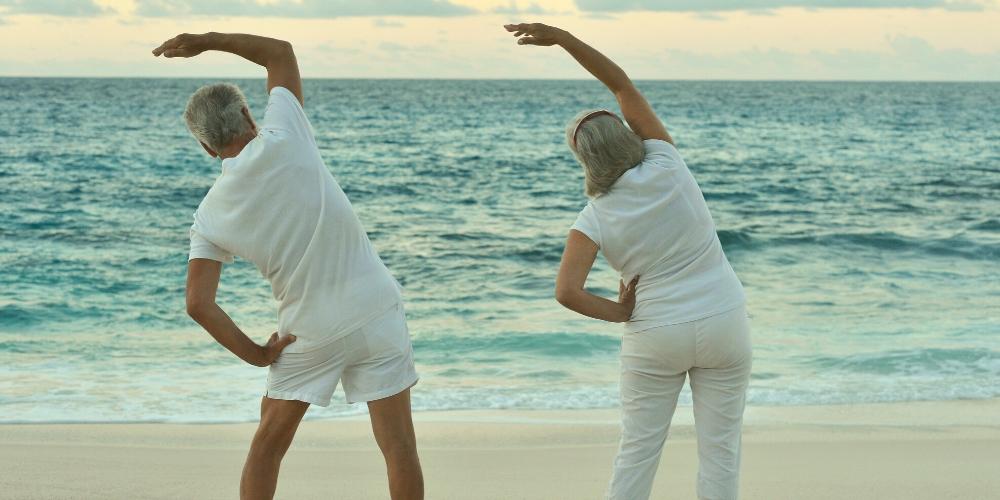 The beauty of yoga is that it is easily adapted for all levels of physical ability. Most gyms will offer yoga classes of varying levels, so if your loved one is interested in trying out this ancient form of exercise, get in touch with your local gym today.
Tai Chi
Tai Chi is another ancient form of exercise, and in many ways, is similar to yoga. Tai Chi is a traditional Chinese martial art, originally developed as both a defence training and meditative practice.
Today, Tai Chi is incredibly popular with many seniors around the world, as it's a gentle form of exercise which can be carried out by those with slightly restricted mobility. For seniors suffering from a number of health problems, including heart problems, breathing difficulties, or arthritis, but who still have the ability to stand, Tai Chi can be a wonderful and mild exercise which improves balance, muscle strength and can reduce the heart rate.
Take a look at this Tai Chi for arthritis instructional video:
Repetitive exercises (at home or at the gym)
For seniors hoping to improve their strength in one or several specific areas, or simply improve their overall health, repetitive exercises can be very beneficial.
For older adults, regular repetition of lunges, squats, and weightlifting are an excellent choice for improving overall health, as well as focusing on any particular areas of concern. As strength and balance improve, each exercise can be extended from 5 or 10 repetitions to 12 repetitions and so on.
A local personal trainer can help your loved one to develop a regular routine which suits their ability level and works towards their desired outcomes. However, these kinds of activities can also be done in the home, with little to no equipment required.
This video demonstrates a few types of activities (see below) specifically for seniors, which can be completed at the gym, with a personal trainer, or at home.
Whether your loved one is taking part in a muscle-strengthening activity, general strength exercises, an exercise designed to improve blood pressure and heart health, or simply an exercise to improve their overall level of fitness, it is important to consult with a doctor and follow their prescribed physical activity guidelines – including the appropriate periods of time for exercise, to help realise the benefit of exercise without putting health at risk.
All types of physical activity for elderly people, whether mild or more intense, can help to maintain their fitness levels, improve their balance, prevent falls, and stay socially active.
Here at Care For Family, we pride ourselves on our holistic approach to at-home care for older people. Our skilled carers are not only highly trained to provide the best assistance to those in need of a little extra help at home, they are also here to support your loved one with a tailored, individual in-home care solution. Your Care For Family carer can help your loved one to realise their goals for improving fitness and staying active.
Get in touch with us today to find out how your compassionate and experienced in-home carer professionals can support your loved one.
RELATED Posts